I am taken back by a young man who has impressed me lately. I watched him as he made some HUGE mistakes, but I watched him as he fought to get back.
Adam Jones (PacMan)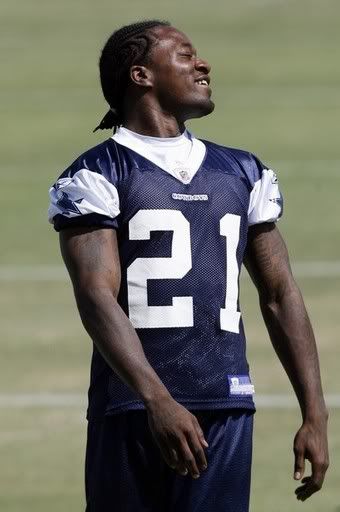 Here is what happened.
*Near the 2007 NFL Draft, Jones's off-field issues (one revealed instance involved in a fist fight and a shooting in a Las Vegas strip club that paralyzed manager Tommy Urbanski) led many to believe that the Titans would cut or trade Jones before his third season in the league began. On April 10, 2007, NFL commissioner Roger Goodell announced a 1-year suspension for Jones, to be re-evaluated after the 10th regular-season game, pending disposition of current cases.
So... he is suspended for making a mistake. Causing damage to people who cared for him. He was faced with a choice... he knew what he had to do...
* Jones took out a full ad in the Tennessean, promising "he'll win back trust" of his teammates and fans." "To my family, teammates, coaches and fans, I recognize that I have lost the right to ask for your patience and understanding," Jones wrote. "However, I will do everything in my power to regain your trust and respect."
In his apology, Commissioner Roger Goodell still suspended him... but there are those who knew his talent and ability...and vouched for him. On April 24, Hall of Famer Jim Brown announced that he had offered his support and help to Jones while in Dallas. Former Cowboys teamates and NFL standouts Michael Irvin and Deion Sanders have also both expressed a willingness to help the troubled cornerback.He said earlier in an interview on a Tennessee radio station he said..."I have always want to be a Cowboy, and where the number 21" So... Now? He is not only a Cowboy...but is fully reinstated.

When you fall down, sometimes the only way back up...is a hand to lift you. Those don't come often. There a few people who want to attach themselves to failure, because of what it says about them. But, there are those, who know what it's like to get hit...in the middle of a crowd teeming with expectation for success, and you are on your back without the strength to get up on your own. Then you look up through your armor and see a hand. A hand with scars from the same impact. Eyes with the same focus of one who will keep going if they can just get back up. That hand makes the difference.
What do i say about this?
Go Cowboys.