Ok... I get it! Jesus does not like President Obama...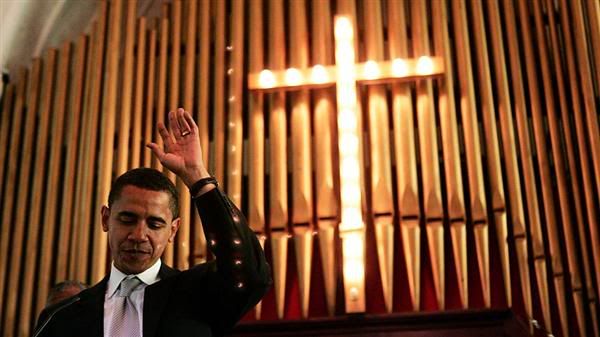 That is at least what you would think. You hear so many people TERRIFIED about Barak Obama. Listen... ok, I didn't vote for this guy. I didn't agree with some of his views. I have heard from so many people that are genuinely scared. FOLKS!!! Really???
I sent a message to a dear friend who was terrified for their kids and their future... They were scared that the country is being led to hell. They were scared that their kids are living in a sin filled land led by a Godless president... I responded because in their heart they are truly concerned. here is some of what I typed:

"Do you think every youth pastor in America themselves believes every single thing your family does? Sure they believe in the word and God. i am sure they love the generation they are serving... but come on... how do u know he doesnt think drinking is a sin? Or sex with his girlfriend is just a personal struggle? Or the Pastor that preached on Sunday about morality yet can go to Las Vegas and gamble money from the paycheck from Gods people but just considers it a vacation and nobodys business?? Its life. If we knew what really happened at times in the heros we have built? Every one has their kryptonite. Trust me. Not everyone that leads... if we really knew what was in there... we wouldn't follow.

Why do I say this? The greatest part about this country? It is not controlled...it's led. You lead your kids. I dont care what the president believes, he is not the father of my son. He is not the voice in my sons ear that he believes as truth. He can pass whatever bill he wants, whatever law he wants, whatever sexuality views he has. God is God, and I am the president in my house =]

No one but me is responsible for my sons growth. He will know... "they can pass and believe what they want... my dad has always taught me what God thinks... and that is wrong". Dont get me wrong. I will pray for Obama. I pray he leads us in the right direction. Did I vote for him? nope. But... the Word tells us to pray for our government.

We did not lose a political war. Dont forget, we dont wrestle against those things anyway.

One more thing. NO ONE is led to hell. The bible tells us EVERYONE will have the opportunity to know the truth... they will choose to leave it. Yes, there are some who will be led astray... but they too will know the truth. To get into a theological debate is the very thing Jesus was against. He gave 2 commandments as utter importance. Love God with everything, love others the same. Trust me, Obama has a full plate, and there is enough hate in the world to fill it to overflowing. If we are not careful... our concern is viewed as a biased hate driven by fear. ME? I am who I am because I chose to be, I am here because I chose to come home. I am here because I chose my family. NO ONE will choose for me. Thus the FREEDOM of where we live. I didnt choose him, but he is my president. I am going to pray for him. Trust me. Wait til he makes a mistake. Every talk show that sung his praise will shoot him down just as quick.

As those who call themselves God followers... God led us way before the election. That doesnt change. Pray for him, but pray that we become stronger in the change, not weakened by the fear of the unknown. We have the advantage of KNOWING the unknown... we follow the guy who knows everything!!"